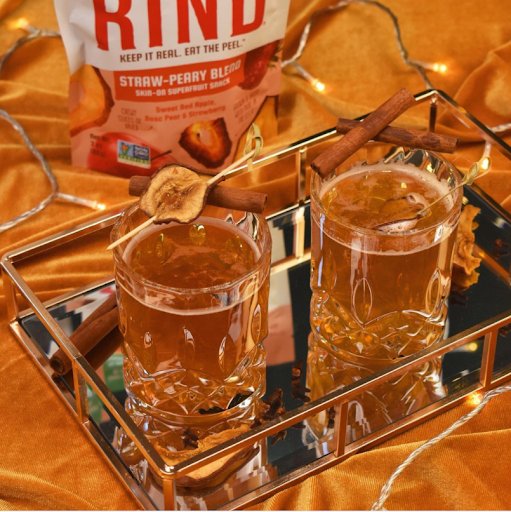 Try this Spiced Pear Cider garnished with a RIND superfruit slice from our Straw-Peary blend.
Ingredients: ⁠
1 1/2 cups spiced pear cider⁠
1/2 cup Wild Turkey®️ 101 Bourbon⁠
1/4 cup. Wild Turkey American Honey®️⁠
1/4 cup. fresh squeezed lemon juice⁠
3 dashes aromatic bitters⁠
A splash of soda water⁠
Cinnamon sugar⁠
Directions: ⁠
1. Core and quarter 2 pears (about 2 cups) and place the pears in a small sauce pan with 2 cups of water and 1 cinnamon stick⁠
2. Let it simmer over low heat for 2 hours, stirring occasionally ⁠
3. Allow it to cool, then strain through cheesecloth to remove solids⁠
4. To make the punch: combine pear cider, Wild Turkey, American Honey, lemon juice, bitters, and ice in a pitcher or punch bowl⁠
5. Stir well and allow it to dilute for 30-40 seconds ⁠
6. Prep drinking glasses by dipping the rim into apple cider, then into the cinnamon sugar ⁠
7. Pour the punch into glasses then top with soda water – about 1 oz per glass⁠
8. Garnish with RIND pear slices & enjoy!⁠
⁠Recipe inspo from @womenandwhiskies⁠