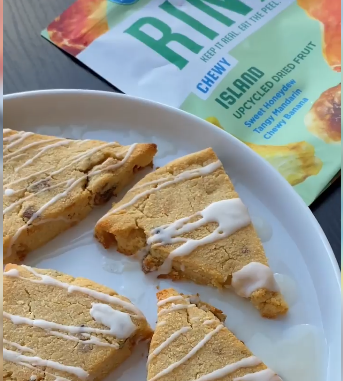 Recipe: 
-1 cup almond flour
-1/4 cup + 1 tbsp coconut flour
-1 tsp baking powder
-dash of sea salt
-1/4 cup canned full fat coconut milk
-2 tbsp ghee, melted (sub vegan butter or coconut oil for df option)
-1 egg
-1 tsp vanilla
-1/2 cup chopped RIND Snacks Island Blend
topping: melted coconut butter (place coconut butter jar in a bowl of hot water until soft - do not try to microwave!) or you can use a traditional powdered sugar glaze (not paleo)

preheat oven to 350F (325 for convection) & line a baking sheet with parchment paper or silicone baking mat. in a small bowl, mix together all the wet ingredients and set aside. in a medium bowl, mix together all dry ingredients. add the wet ingredients to the dry & stir until fully combined. dough should be thick but not too dry. fold in the dried fruit. shape into a ball. press down with your hands until about ~1 inch thick. freeze the dough for about 15-20 mins so that it's easier to cut. remove from freezer. cut into 8 triangles. spread out on the baking sheet. bake for 15-20 mins, or until the edges are starting to get golden brown. let cool completely. drizzle the top with melted coconut butter. enjoy! we stored ours in the fridge.