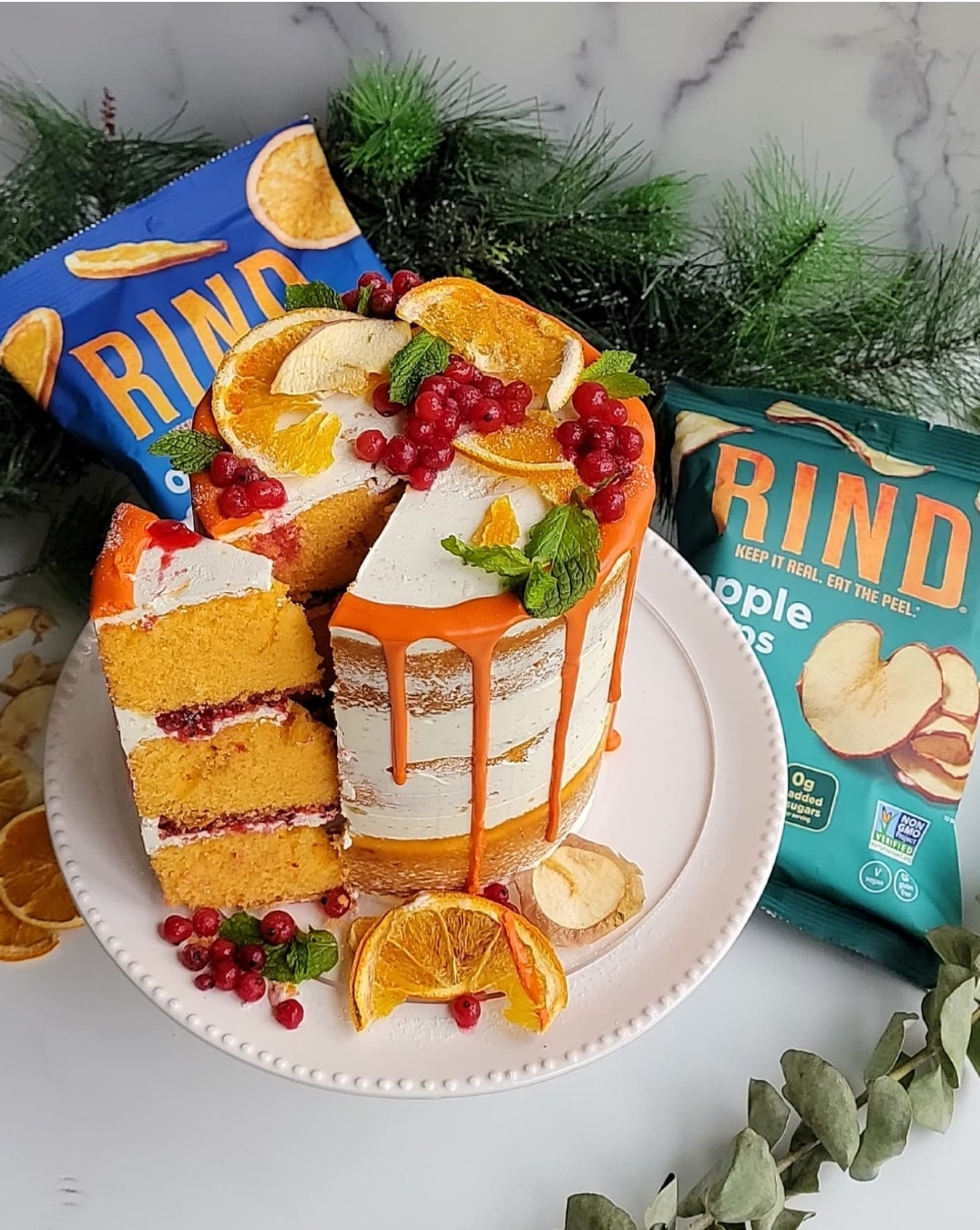 Ingredients:
Orange Cake:
9 tbsp unsalted butter, softened

0.5 cups vegetable oil

2 cups granulated or monk sugar

4 eggs, room temp

1 egg white, room temp

1 tsp salt

1 tsp baking powder

1 tbsp lemon extract or juice

4 cups gluten-free flour (can be substituted for AP)

1 cup milk of choice

3 tsp of powdered 

@rindsnacks

 Orange Chips

1 cups 

@rindsnacks

 Orange Chips for cake decor

Apple Buttercream:
1/2 batch of my Swiss Meringue Buttercream (link in bio to website)

3 tbsp powdered 

@rindsnacks

 Apple Chips

1 cup 

@rindsnacks

 Apple Chips for cake decor

*Optional: Cranberry Sauce for filling

Directions:
Preheat oven to 325 F. Beat the oil, butter, and sugar with whisker attachment on high speed for about 5 min until light and fluffy. Add the eggs and egg white, one at a time, while continuously whisking on low speed, scraping down the bowl in between. Sift the dry ingredient together and set aside. Combine milk and lemon extract/juice together. Add the dry ingredients to the mixer, alternating with the wet. Mix in powdered (and whole pieces, if desired) of 

@rindsnacks

 Orange Peels. Optional: add few drops of natural Orange food coloring.

Split the batter into prepared pans. Bake for 40-50 min for 6" cake pans, until inserted toothpick comes out clean/dry with just a few crumbles on. Note: do not open your oven during the first 30 minutes of your baking, otherwise, your cakes may not rise.

Apple Swiss Meringue Buttercream: 

Fold in @rindsnacks

 powdered Apple Chips and mix well.