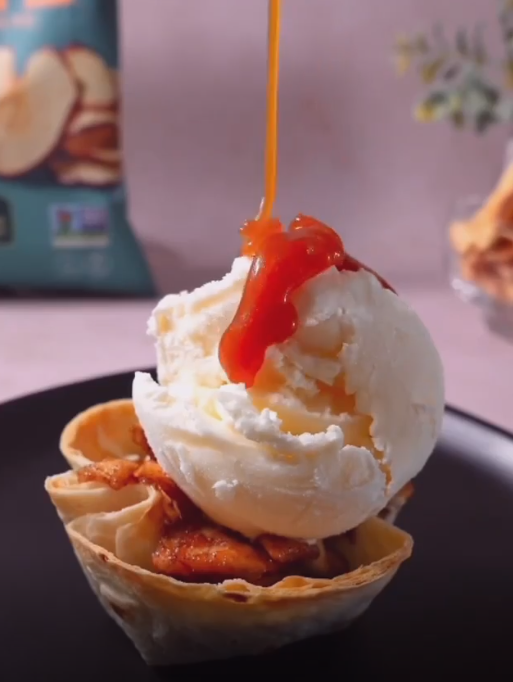 Recipe: 
Ingredients:
2 Cups @RINDsnacks Apple Chips
2 Cups Boiling Water
1/4 Cup Brown Sugar
1 tsp Cinnamon
2 Large Flour Tortillas
1 Tbsp Butter Melted

Instructions:
-Preheat the oven to 350 degrees Fahrenheit.
-Add RIND apple chips to a large bowl. Pour the boiling water over the top. Let sit for 10 minutes to rehydrate the apples. Once the apples are rehydrated, strain the water out.
-In a small bowl combine the brown sugar and cinnamon. Add the sugar mixture in with the apples. Toss to combine.
-Use a small bowl to cut three medium sized circles in the first flour tortilla. Repeat with the second tortilla. You should have six circles total.
-Place the tortilla circles into the muffin tins. Brush each tortilla with melted butter.
-Place the tortillas in the oven for 10 minutes. Then remove the tortillas from the oven.

Spoon the apple pie filling into each of the crust cups. Place the apple pie cups back in the oven for five minutes to bake the apples. Then remove from the oven and let cool.
Remove the apple pie cups from the muffin tins. Top the apple pie cups with ice cream and enjoy!